Welcome to Healing Pathways!
Healing Pathways is a holistic healing center located at 89 Western Ave, Augusta, Maine. We currently have practitioners offering services such as massage, energy and sound therapies, reflexology and counseling. Please contact your preferred practitioner to schedule an appointment.

Julie Mecham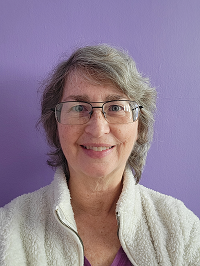 My name is Julie Mecham. I have been interested in self help since I was in high school. After several different career paths I decided to learn Massage Therapy and Reiki. I have had my own private practice since 2003. Many continuing education classes later, I discovered Biofield Tuning. Wow! It was the missing link between mind, body and soul that I have been looking for! I became a certified in Biofield Tuning in 2021.
I have decided that I'm going to stop taking new massage clients. I will continue working on existing clients and start shifting my practice more toward Biofield Tuning.
Accepting New Biofield Tuning Clients
Call or text 207-441-9252, email julie.a.mecham@gmail.com or click the link to Schedule an Appointment Online

Samantha Florio
My name is Samantha Florio. I moved to Maine in 2018 after having a massage practice in Oakland, CA, for 20 years.
I specialize in Deep Tissue massage and Craniosacral Therapy. Depending on your needs, I may incorporate Swedish and Sports massage, Shiatsu, and Reflexology. I also enjoy using myofascial cups and tuning forks.
My practice focuses on embodiment and unwinding tension held within your muscles and nervous system. I focus on quieting the mind so we can hear what your whole body is trying to tell us.
Accepting New Massage Clients
70 minute session is $90 ~ 90 minute session is $110 ~ $10 off for Veterans
Call or text Samantha at (510) 910-6733 or email samflo111@gmail.com to schedule an appointment

Josie Maschino
Licensed Massage Therapist and Reiki Practitioner
Accepting New Massage or Reiki Clients
Call or text Josie at (207) 592-6729 for an appointment

Sylvia Coulombe-McGuire
Reflexology & Reiki
Call or text Sylvia at (207) 458-0095 for an appointment

Betsy Sweet
Life Coach, Counseling & Intuitive Healing
Call or text Betsy at (207) 441-3060 for an appointment